The Nutshell Studies, Explained
C onvinced by criminological theory that crimes could be solved by detailed analysis material evidence and drawing on her experiences creating miniatures, Frances Glessner Lee constructed a series of crime scene dioramas, which she called The Nutshell Studies of Unexplained Death.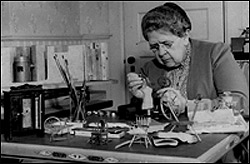 Courtesy of The Glessner House Museum
To create her miniature crime scenes, she often blended the details of several true stories, embellishing facts here and changing the details there. She researched her crimes using newspaper reports and interviews with policemen and morgue workers.
On a scale of one inch to one foot, she presented real-life suicides as accidental deaths, accidents as homicides and homicides as potential suicides. She even used fictional deaths to round out her arsenal.1
Material evidence at any given crime scene is overwhelming, but with the proper knowledge and techniques, investigators could be trained to identify and collect the evidence in a systematic fashion. She hoped her Nutshell Studies would help. The point was not to solve the crime in the model, but to observe and notice important details and potential evidence—facts that could affect the investigation.
Photo by Erin Bush
She began construction on her first Nutshell in 1943. "The Case of the Hanging Farmer" took three months to assemble and was constructed from strips of weathered wood and old planks that had been removed from a one-hundred-year-old barn.2
Ralph Mosher, her full-time carpenter, built the cases, houses, apartments, doors, dressers, windows, floors and any woodwork that was needed. Mrs. Lee managed the rest, including the dolls, which she often assembled from parts. She painted the faces herself, including the specific detail work to obtain the appropriate colors of decomposition.3
The detail in each model is astounding. The lights work, cabinets open to reveal actual linens, whisks whisk, and rolling pins roll. She famously knitted or sewed all the clothing each doll wears: a job so arduous, she could only knit several rows at a time in any given sitting. By hand, she painted, in painstaking detail, each label, sign, and calendar.
Looking Glass
Wallpaper and art work were often carefully chosen to create a specific aesthetic environment for her little corpses.
"Many display a tawdry, middle-class decor, or show the marginal spaces society's disenfranchised might inhabit—seedy rooms, boarding houses—far from the surroundings of her own childhood. She disclosed the dark side of domesticity and its potentially deleterious effects: many victims were women led 'astray' from the cocoon-like security of the home—by men, misfortune, or their own unchecked desires."
4
She and Ralph Moser constructed three models each year. Twenty are presumed to have been created, but only eighteen survive. Of these eighteen, eleven of the models depict female victims, all of whom died violently.
"On one hand, because the Nutshells depict the everyday isolation of women in the home and expose the violence there…they can be viewed as a precursor to the women's movement."5
Luckily, I was born with a silver spoon in my mouth. It gives me the time and money to follow my hobby of scientific crime detection.
-Frances Glessner Lee
On the other, they can also be viewed as a looking glass through which to view a rich woman's attitudes about gender stereotypes and American culture at the time in which she was buiilding them. It is interesting to note that all the victims are Caucasian and the majority were depicted as living in depravity. Additionally, alcohol and/or drugs are prominent in many of the Nutshells.
Regardless of her intent, the Nutshells became a critical component of the Harvard Associates in Police Science (HAPS) seminars. Additionally, her work in law enforcement training left a mark on the field that can still be seen today.