About Erin N. Bush
I am a historian of US History, particularly of stories that revolve around the societal punishments and cultural responses to crime in America, especially crimes committed by women or children. I received my PhD from George Mason University in 2019 with specializations in digital history and Women and Gender Studies.
Death in Diorama began as one of my graduate student projects in the Spring of 2011. In it, I combined my academic interest in forensics history with my personal interests in photography and used basic HTML and CSS to develop it.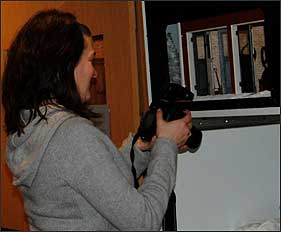 Photo by Alexa D. Potter
I received my bachelor's degree in American history and journalism from the University of Wisconsin-Madison and graduated with a master's degree in American history from George Mason University.
All images of the Nutshells were taken by me with a Nikon and a variety of macro lenses. Historic shots of Mrs. Lee appear courtesy of the Glessner House Museum. For more information, please contact me at erin @ erinbush.org.
As the Nutshell Studies are still used for training, the notes on the evidence presented in this site are all mine. They are not official solutions.